INDUSTRY 4.0
Industry 4.0 is a name for the current trend of automation and data exchange in manufacturing technologies. It includes cyber-physical systems, the Internet of things, cloud computing and cognitive computing. Industry 4.0 creates what has been called a "smart factory". Within the modular structured smart factories, cyber-physical systems monitor physical processes, create a virtual copy of the physical world and make decentralized decisions.
Over the Internet of Things, cyber-physical systems communicate and cooperate with each other and with humans in real time, and via the Internet of Services, both internal and cross-organizational services are offered and used by participants of the value chain.
It all started with the Industrial Revolution, when the world was first introduced to steam power, mechanization and factories that marked the new era of modernization. The enablers were no other than the world's powerful imperialists, the British that cultivated their growing interest in scientific investigation and invention – creating endless opportunities and jobs for their people.
As time progressed, the rapid growth of technology sparked the Second Industrial Revolution, taking mankind to the age of electricity. As demand grew, many new products were invented and significant developments were made in the structure of mass production. The third epoch of the Industrial Revolution – better known as the Digital Revolution – began decades after World War II, welcoming the advent of computers and the initial stages of automation – subtly substituting manpower in assembly lines with robots and machineries.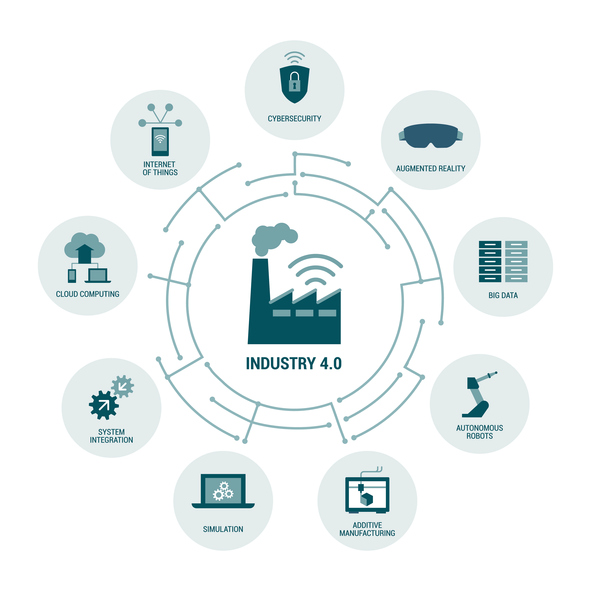 Based on research conducted by PwC, Industry 4.0 sees a promising future in the digitization of products and services and means of robotic manufacturing and engineering – companies expect to reduce operational costs by 3.6% per annum while increasing efficiency by 4.1% annually – over the course of five years.
Organizations are willing to pay the mammoth expense in the hopes of fortifying their influences and positions in the multifaceted industrial ecosystems. Indeed, most industries always begin at Industry 2.0. In contrast to Germany that employs advanced automation, China has managed to climb the modernization ladder with its high dependence on low cost labor.
Following its rapid and massive vicissitudes in demographics and economics, the younger generation is opting out of cheap labor work. The most apparent solution for China to sustain their rank as an industrial powerhouse is to shift their traditional manufacturing practices towards contemporary computerized machines and robots – that will be implemented in the Made in China 2025 plan.
Even though Malaysia shares a simulacrum of labor intensive system, 80% of the organizations here employ low-cost, foreign workers rather than quality skill-based workforces. This reliance on a labor-intensive system tells us one thing: we are too comfortable with Industry 2.0. With the emergence of policies such as the ASEAN Economic Community (AEC), Malaysia has an even higher export potential – giving our country access to Asian to European countries' economies – through the implementation of free trade.

As Malaysia's open economy is greatly dependent on global trade, these agreements may come in handy for the free flow of goods and services, in which a huge margin of the economic expansions will most like be attributed to lower non-tariff dealings. The determining factor of a country's revenue focuses primarily on its production and capacity for export rather than on its local consumption alone.

Nonetheless, these progress and possibilities may be slightly harder to achieve if we don't tap into the latest technological innovation. Most ASEAN countries (such as Vietnam, Laos and Cambodia) have seen major progress in the productivity and growth of their vast manufacturing industries from an agricultural-driven industry. In fact, these countries are making the transition from Industry 2.0 all the way to Industry 4.0. Malaysia still holds great prospects in evolving our manufacturing sector – that is made up of the electronics, automotive and construction industries – to meet rising consumer demand while considering the modern augmented factory and machine operations that are catching on worldwide.
KNOWLEDGECOM & INDUSTRY 4.0
In an effort to up skill the current and next generation of workforce, Knowledgecom partnered with seven states with the support of the Federal government to open Centre of Excellence Training (CoET) in Kuala Lumpur, Selangor, Penang, Perak, Johor, Sabah and Sarawak.
Click here to list of CoET in Malaysia.
Through the collaboration, the company was looking at training and certifying 3,300 of Industry 4.0 certificated workers across Malaysia under the CoET programme by 2018.
As for today, we have conducted 5 Track of training at all the CoETs and APIC under the program National Empowerment in Certification and Training for Next Generation Workers (NECT-GEN – Industry 4.0). Each track consist of 2 days of Overview of Industry 4.0, continue by the Technology Track and follow by the Examination.
Below are the list the mentioned tracks:
Track A Industry 4.0: Big Data (BD)

- Implementing a Data Warehouse with Microsoft SQL Server 2014
- Big Data with SAP HANA
Track B Industry 4.0: Cloud Computing (CC)

- NCTA Cloud Computing
- Implementing Microsoft Azure Infrastructure Solutions
Track C Industry 4.0: Internet of Things (IoT)

- Managing Industrial Networks with Cisco Networking Technologies (IMINS)
- Java SE 8 Programming with Micro Edition (ME) Embedded
- Android Application Development
Track D Industry 4.0: Cyber Security (CS)

- CyberSec First Responder: Threat Detection and Response
- Security in a Cloud-Enabled World
Track E Industry 4.0: Vertical Integration (VI)

- Sales & Distribution 7.0 (SD)
- Financial Accounting 7.0 (FI)
- Material Management (MM)
Moving forward, Knowledgecom would leverage on the training programmes driven by Industry 4.0 to contribute significantly to the company's growth. The company's revenue grew to about RM11 million as at March 31, 2015 from RM7 million a year earlier and is expected to continue growing at 30 per cent annually. After focusing on local expansion in 2016, Knowledgecom is now eyeing market expansion into ASEAN this year, particularly the Philippines and Vietnam.